Ulthera Skin Tightening Therapy
Ultherapy is not a laser treatment but instead uses sound waves to lift and tighten the skin non-invasively. It is can be used in a lot of different areas, but is most popular for the brow, neck, and under the chin. Recently Ultherapy was FDA approved for the chest. This treatment has no downtime and creates a lifting and tightening of the skin over 2-3 months.
How does Ulthera work?
Unlike lasers, which penetrate the skin from the outside in, Ultherapy works from the inside-out to lift and tighten. It bypasses the surface of the skin to the foundational layer to stimulate production of new collagen and elastin deep into the skin. Overtime the result is a gradual lifting and tightening of the area.
What do I need to do before my treatment?
No preparation is required before your procedure, although you can take over-the-counter medication prior to treatment.  At your consultation, your options and discomfort level will be discussed.  Feel free to bring a list of questions. We love an informed patient. Our esthetician will let you know what to expect before, during and after your procedure and answer all of your questions.
What can I expect during and after the treatment?
This procedure is quick and simple and is performed with your comfort in mind. The typical treatment can take around 60-90 minutes but can be as short as 30 minutes depending on the area. After cleansing the skin, an ultrasound gel is applied to the area being treated. The focused sound waves bypass the surface of your skin and deliver sound waves to the tissue to stimulate collagen. After your procedure, you can return to your normal activities and there are no special measures you need to take. It is not uncommon to experience slight swelling, or tingling/tenderness to the touch following the procedure. These are mild and temporary in nature. There is the possibility for other less common post-procedural effects, such as bruising or numbness. Typically these resolve in 7-10 days.
The choice to have Ultherapy
It's about confidence: confidence in the person performing your laser treatment, confidence that your wishes and individual concerns will be heard, and confidence you will get the results you want. We have the experience and reputation that with a known track record in the area.
Ready to take the next step? Schedule your consultation now!
At your consultation you'll meet with one of our surgeons and we'll discuss all of your options and answer all of your questions.
Let's Do This!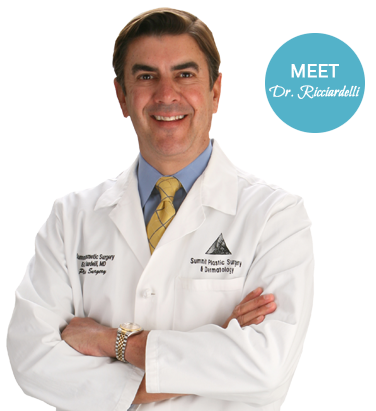 Meet Dr. Edward Ricciardelli
Dr. Edward Ricciardelli is one of the most highly trained plastic surgeons in the country. He is the only plastic surgeon in the area who is board certified in both head, neck, and facial surgery and plastic surgery.  He has been performing facial surgery for over 29 years.  During that time he has taught and trained other plastic and facial surgeons, lectured around the country, given courses on facial surgery, and cared for thousands of surgical patients. Read more…